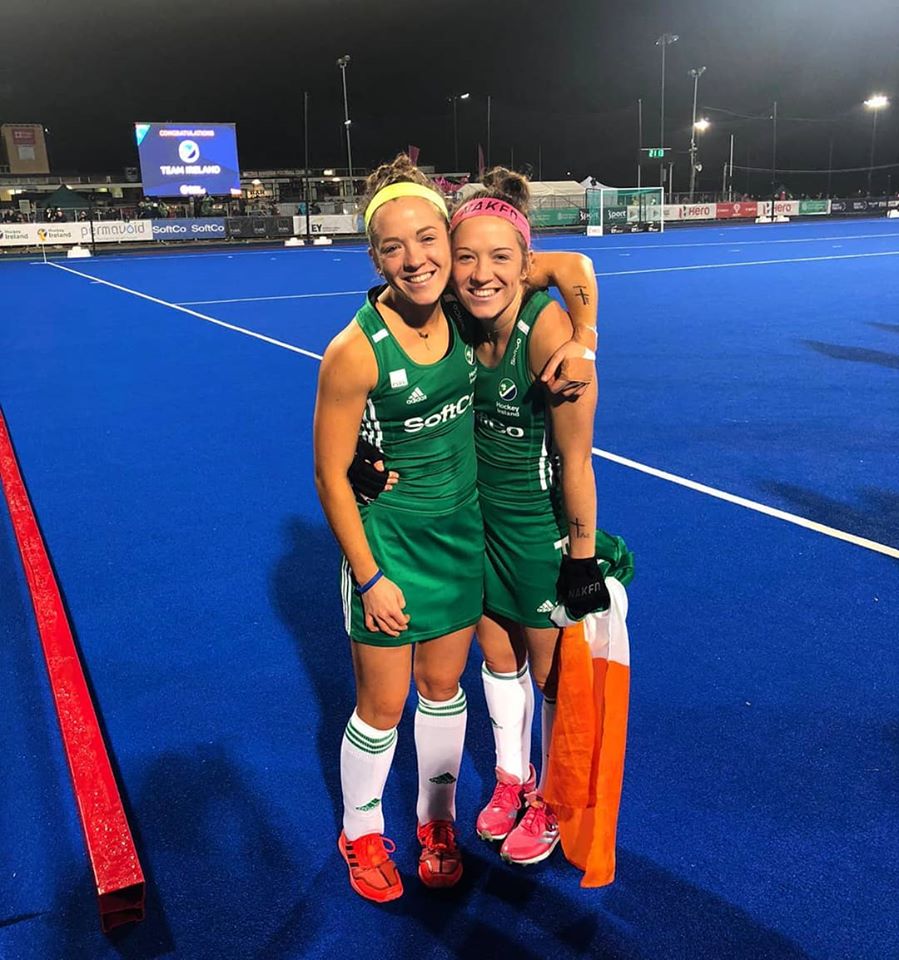 Through our Covenant Journey ministry, we are blessed with the most amazing young Christian leaders who are points of light all over the world. Twin sisters Bethany and Serena Barr were selected for our journey to Israel designed to strengthen the Christian faith of Christian college-age students with demonstrated leadership skills. They are two examples of our Gideon's army.

The twin sisters are citizens of Ireland who received Field Hockey scholarships to Liberty University. They graduated as co-captains in May 2017, just before our journey to Israel in June. After their life-changing experience, they returned to Ireland where both obtained a Master's Degree. While pursuing their graduate work, Bethany and Serena made the Ireland national team.
On October 30, 2019, during the world competition for the 2020 Olympics in Tokyo, Ireland defeated Canada and became the first female team in the nation's history to qualify for the Olympics.

But nine years ago, the Barr family experienced tragedy. On October 30, 2010, their oldest sibling, Charlene, died of cystic fibrosis at the young age of 20.

Days before her death, Charlene encouraged her sisters to win the national high school championship. Bethany, Serena, and their next oldest sister, Natalie, who was also the captain of the team, tattooed "Ao1" on their arms, referring to the fact that they play for an "Audience of One." The twins and their older sister won the national high school championship and dedicated the win to Jesus and their beloved sister.

Their athletic achievement and the Ao1 tattoos have opened many doors to share the love of Jesus in Ireland and around the world.
In her short life, Charlene raised 120,000 pounds to start a school for under privileged children in Uganda, where she was greatly impacted during a mission trip. The Barr sisters continued her dream and raised additional funds to finish the "Charlene's Project" in 2010.

Nine years to the day, Bethany and Serena were playing against Canada in the biggest game of their life. Trailing with the clock running out, their dream of reaching the Olympics was slipping away. Rather than get discouraged, Bethany knew she was playing for an Audience of One.

During an interview on the Late Late Show in Ireland, Bethany described what was going through her mind when she prepared to take a penalty shot, "I kept repeating to myself – 'audience of one.' Because I knew if I missed, our dream was no longer going to be alive." She then said, "It was something that gave me peace. I wasn't doing it for myself, I wasn't doing it for the team, I was doing for God."

When Ireland won in overtime, the announcer and the crowd went wild, knowing that history was made with this historic victory.
It was an emotional moment to qualify for the Olympics nine years to the day after Charlene's death. Ironically, the 2020 Olympics will be 10 years after the school Charlene envisioned opened in Uganda.

Qualifying for the Olympics has given Bethany and Serena a national and world stage to share Jesus. They have never forgotten that everything they do on the field and off is for an Audience of One.

Help us raise up generations of Christian leaders like Bethany and Serena through the ministry of Covenant Journey. Do not be discouraged about this young generation. Yes, there are serious issues of concern, but we see a generation of exceptionally talented Christian leaders who love the Lord and who are changing the world.

In addition to providing a life-changing experience in Israel for Christian college-age leaders, Covenant Journey also offers tours for churches and groups. See CovenantJourneyTravel.org.